Date: 17 August 1996
Company: JD
Length: 15 miles
Route
Park in Old Glossop. Set off towards Doctor's Gate but enter the access land at Shittern Clough. Angle across to Yellowslacks stream and follow this to its source. Follow the compass bearing due north to pick up the Pennine Way and go west along it to Torside reservoir. Head east on the Longdendale Trail almost to the Woodhead reservoir. Return on to the moorland and aim for the Rollick Stones. Climb up Wildboar Clough and follow the same line after its source to reach the Pennine Way again. Follow this south-eastwards over Bleaklow Head and the Wainstones almost to the A57. Turn right down the Doctor's Gate path back to Old Glossop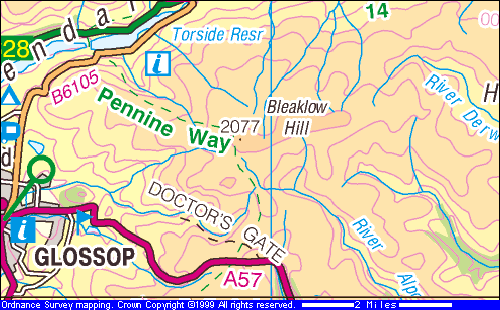 Description
We did this walk at the end of a long dry spell so that the bogs of Bleaklow were quite benign. Lovely weather on the day and open views all served to rob Bleaklow of its forbidding aspect and it was really lovely.
However what sticks in the mind are the two ascents on to the hill. The two streams alternate between level sections and short drops. We had to scramble over the drops but this just engaged the brain and it was a way of gaining height with seemingly little effort. It was captivating. JD had slogged up Bleaklow the hard way over the Rollick Stones; he says that name with feeling and "Rollick" comes out sounding like a curse. He much preferred this route. Since then I've used the clough method a couple of times to get on to Kinder and it was just as interesting.
Much of the rest of the walk was pleasant rather than eventful but it was a thoroughly enjoyable day.