Date: 16 August 1995
Company: Alone
Length: 13 miles
Route
Park at Ogwen Cottage. Tryfan, Glyder Fach, Glyder Fawr, Y Garn, Foel Goch Carnedd y Filiast, Elidar Fawr, back to Y Garn, down the arÍte back to Llyn Idwal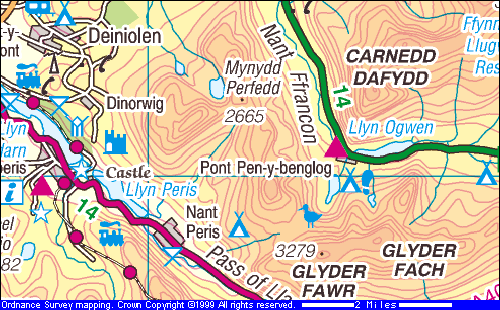 Description
Another perfect day with stunning views. However I had done much of the walk before. What makes this stick in the mind was that this was the day I completed the Welsh 3000s. Also I was on my own, was confident about my abilities on the tricky bits and really went for it on a no compromise route.

So what about the Welsh 3000s; you can do them in a single walk if you are really fit. Well I'll never be that fit again. Just over two years previously I had only done one three thousand foot anywhere; that was Snowdon summit itself in 1979. So I thought I was coming along nicely. Then I'd gone to Andorra where nearly all the walking was above that height. Since then I'd progressed: in order the Glyders, Crib Goch, Crib y Ddysgl, Y Lliwedd, Tryfan, Y Garn, Helvellyn, Broad Crag, Scafell Pike, the seven tops of the Carneddau. So this was to be a big day. (If you are being pedantic youíll note that Scafell, Helvellyn Lower Man, Skiddaw and Ill Crag Ė the English ones - are missing but Iíve done those since)

Tryfan is my favourite mountain, especially when combined with Bristly Ridge. The first time I did it was super but fear meant that I hadn't really savoured it. Since then I'd been up Tryfan three times since and Bristly once but on each occasion I didn't do as much as I wanted to do because of the others with me (this includes the time that Charles nearly died). So this was the chance to burn up some energy. I'd also just come back from Scotland (see "The Mamores Ridge") and was feeling really fit.

I flew up Tryfan and Bristly. I loved it. I never tire of Tryfan because you don't take the same route up it twice. I have discovered though that the sooner you can get onto the ridge the better it is. You guarantee to see the cannon for example. It means a trickier scramble to do so but it's worth the effort. I felt really at one with Bristly too. The tops of the Glyders were straight forward although I did go up the Castell y Gwynt for the first time. Y Garn was a bit of a pull. The ascent of Elidar Fawr was a pleasure and just right in scale for my state of tiredness. I was glad to do the traverse on the way back rather than the various ups and downs but you cannot escape climbing Y Garn again. The ridge down is nice to begin but I don't like the descent off the side: it is similar to but not quite as bad as the one off the Snowdon Horseshoe after Lliwedd.