Date: 31 May 1998
Company: JD, Charles
Length: 24 miles
Route
Start at Hathersage. On to Stannage Edge at the nick and then over High Neb to the Snake road. Up on to Derwent Edge as far as Back Tor. Retrace one's steps a little and then down to the Derwent reservoir. Cross between it and Ladybower then up to Lockerbrook farm. Descend via Hagg Farm and recross the Snake road. Pick up the Win Hill ridge and carry along it to the summit. Descend to Bamford and back to Hathersage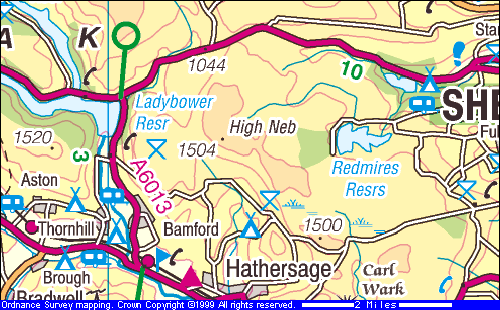 Description
This was the third of the four John Merrill Challenge Hikes in Staffordshire, Cheshire and Derbyshire. In the previous year I did the Staffordshire Moorlands Challenge (with Charles and Andrew) and the White Peak Challenge on my own (the other two being absent on holiday). The following year I did the final one, the Three Counties Challenge, also on my own.

Why was this so good? Firstly the weather was spectacular and showed off the countryside to its best. Secondly it was my first serious walk in the Dark Peak. I had always thought of it as somewhat gloomy and depressing. In glorious sunshine it was truly brilliant. The route deliberately avoids the parts of the Dark Peak where you can get seriously into trouble but we saw all the famous names; Kinder, Bleaklow, the Mam Tor ridge. Gobsmackingly wonderful. I sensed that this was quite a rare sighting with them all looking so benign in the sunshine.

Then there was the exhilaration of a serious day's walking. I do not often walk this far. Strangely we had done the walk as much as training for our next project than a walk in its own right. That was to walk the Staffordshire Way from Mow Cop to Rocester. We were into pure distance at that time and this was a 32-mile jaunt; none of us had ever done more than 30 miles before. In the event all we got out of the day was the sense of achievement. We did not really enjoy the walk for itself because all the time we felt a need to push on.
We were much more comfortable on the Dark Peak because I knew that we could do it and therefore we could stop to take in the surroundings. There was a glorious feeling on reaching Bamford Mill. We had done the hard work; we could stop to look at the mill and the river and then have our final stop at Ye Derwent. A well-earned drink that: on one of our big walks we make a point of not taking on alcohol until we are sure we can cruise to the end of the walk.

Finally the company. I have a reputation for preferring my own company on walks but this is not true. I can walk quite happily on my own, I certainly don't enjoy feeling held up by others and even in company I can walk silently. Nevertheless I do prefer to be with others who can walk at a similar pace and participate in the banter. This was something of a male bonding exercise.