This was really a non-walking day.
We started out at the Cave and Basin. This was the site of the original hot spring found in the area. This became the original tourist attraction and, when there was a dispute over the property rights, the National Park was created to oversee development in the area. The site went posh in the 1920s when a new building was erected to house the cave with the spring and and exhibition about it. The building won architectural awards and I'm not surprised. It looks much more modern than its date, even if there is a hint of Art Deco.
The cave is not desperately interesting and there is a formidable smell of rotten eggs (sulphur dioxide??). There are two trails from the site. One explores the hot springs and the other is downstream showing the very unusual ecology which is based on the warm waters.
From there we drove to Bow Falls, a big drop in the river,
We then had lunch at the Banff Springs Hotel. This would not have occurred to us (but for a tip from a f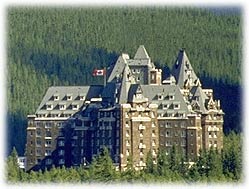 riend) as the hotel is so impressive. It looks like a Scottish castle and dominates the woodlands. It was built by Canadian Pacific and open up the tourist industry. The lunch was a £10 per head buffet and the food was superb and very plentiful. Even Amy found plenty to interest her.
We had a walk round the hotel (latching on to a guided tour for a while) and the gardens. The view of the Bow River as it cuts between Tunnel Mountain and Mount Rundle was particularly impressive. It reminded me of the view down the Jaws of Borrowdale but five times as large. We pootled round the shops in the hotel (it's like a mall) and then went elk-spotting on the golf course.