Date: 10 October 1998
Company: SRG
Length: 13 miles
Route
Park at the Jubilee Tower. Head down hill past Westfield House and turn left. Follow this path to Chapel House farm and then take the road into Abbeystead. At Stoops Bridge, pick up the Wyre Walk going past Abbeystead House and then cut up to Top of Emmets and then Tarnbrook. Follow the concessionary path over Tarnbrook Fell to Brown Syke. Follow ridge to Ward's Stone and Cairns Fell. Follow the fence down to the car park.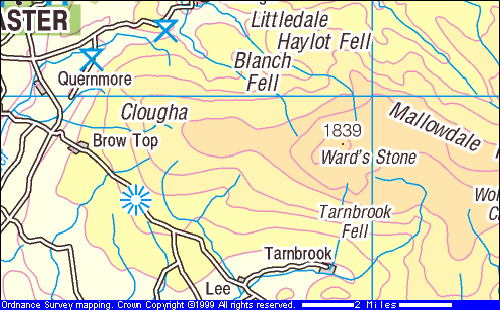 Description
This walk was done for the SRG Autumn Weekend that I organised, staying at Thurnham Mill near Lancaster. I'd picked the hotel on the basis of its proximity to the Forest of Bowland, a new area for me.
It was therefore an obvious choice for the big walk on the Saturday to go to Ward's Stone, which is the highest point on Bowland and therefore a Marilyn. It was also a risk. When we were doing pre-walks for the weekend. the ground conditions were very wet. I heard a radio interview with a farmer who quoted the very high percentage of wet days that they'd experienced in the preceding months. The top of the Forest is fairly featureless and there was the serious potential for getting lost if there was low cloud. The weather was glorious for this particular pre-walk; this made me even more dubious about getting the right conditions on the actual day.
In the event the weather was marvelous, getting better as the group went higher. There is no difficulty in setting a route on and off Ward's Stone. The land is privately owned and there is just one concessionary path across. I found a route in Trail to join this up (although I did a small diversion to get a view of Abbeystead, one of the Duke of Westminster's various homes).
The glory of this walk is the gradually opening views as you walk up on to the heather moorlands. It starts on a track from where you get views of the Lancashire coast. Then, as you get on to a proper path and reach the crest at Brown Syke, the Yorkshire hills appear with the Three Peaks (Ingleborough, Whernside and Pen y Ghent) dominating the scene. There is a short section of groughs (fortunately dry and firm and causing much amusement to the party) before the angle turns and you see the southern fells of Lakeland too. You really feel as though you can see the whole of the North of England from there. It is then only a short climb to the summit.
The walk was quite challenging for the Ramblers; 13 miles is long in itself and the terrain was more severe than most. Nevertheless there was a good pace throughout and we were back earlier than expected. The rest of the group were humming with their enjoyment of it.
I was delighted with the way in which the whole weekend went but, no doubt about it, the top ridge was the high point (literally and metaphorically)