Date: 10 September 1995
Company: Stafford Ramblers
Length: 15 mile
Route
Start at Wildboarclough. Climb Shuttlingsloe and cross the moor to edge of the Macclesfield Forest. Turn right along forest walk to Forest Chapel. Go back into forest but veer right to track under Tegg's Nose. Climb up to pick up Gritstone at Tegg's Nose Car Park. Follow Trail southwards over Croker Hill and Wincle Minn, turning east to Mareknowles. Go north up the stream a little way and then head north-east over Bennettshill to the Wild Boar pub. Back up the valley to Wildboarclough.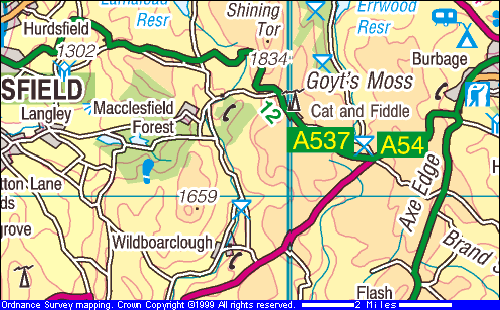 Description
I have realised that I have not yet included a single walk with Stafford Ramblers. What does this demonstrate? Probably that their walks are less strenuous and so tend to be less memorable. Anyway I am going to end with two of theirs. Even this is a minor cheat as I led both walks and the intention was to do tougher ones.

For all that this walk is still mentioned in awe-stricken terms within the Ramblers. It has two main claims to fame. Firstly it finished later than any other normal Sunday walk in most people's memory (6:45) amid gathering gloom and increasingly strong precipitation. Secondly it was the walk that finished off one member who hasn't been seen since.
In my defence I argue that these problems were not apparent when I did the prewalk with Charles. True he did struggle a bit on the climb up Shuttlingsloe but he was OK after that. We explored alternative routes and had to do a diversion because of a non-existent path so that we walked 18 miles altogether and stopped for a drink at the Wild Boar and still were finished before 6pm. I did however realise that there would be problems as soon as I got to the car park. There were far more people than is normal for one of my walks (I did have a certain reputation even then) and I knew that some of them were not up to it.
This became very clear on the first climb up Shuttlingsloe as I allowed people to go at their own pace and we got very spread out (although this gave me the chance to play on the rocky bits on the summit). The weather at this stage was lovely and the next section is nice and easy so that we could really enjoy the sunshine. There is one stunning view if Shining Tor which you come upon quite suddenly in a break in the forest.

We stopped briefly at the Forest Chapel for a drink and a look round. Then we went on through the northern end of the forest and up the drag on to Teggs Nose. One of the fascinations of the walk was becoming clearer; this is the way that the shape of Shuttlingsloe alters as you go around it. Its nickname is the Cheshire Matterhorn and the dramatic pointed peak is most evident from the south. Its north western aspect from Teggs Nose is much more rounded and far less distinctive.

Going south along this section of the Gritstone is a delight. It is quite flat and the going through the pasture land is quite quick. It is clearly fat-cat country from the quality of the housing en route and there is a lovely section of valley just before appearing at the foot of Croker Hill. I really like the climb up there but others were obviously beginning to struggle at that point. This meant a lot of waiting by the rest at a time when the weather was deteriorating. The sun had been replaced by general grayness and a cold wind.
This is typical of my experience of the Gritstone. I think that it's a wonderful path but every time I have walked it the weather has been bad. Perhaps I am just unlucky: Beryl says the same about Cheddleton and JD had to go up Fairfield 27 times before he saw anything from the top.

We carried along the edge to Mareknowles and then took the nice curving path into the little dell at the bottom. The last time that I'd been there it had been full of bluebells looking a delight. This time it was dark, damp and miserable. It's a long pull from there up to the road. Most people were pretty tired at the top but there was then a blow. As I climbed up the high stile into the next large field I saw that it had been ploughed since the prewalk. I got a lot of abuse about that.
I'll draw a veil over the rest of the walk as most people just wanted to get back and it was becoming darker and wetter. A pity really because I like the walk back up the valley to Wildboarclough.