When we were planning the holiday I thought that the day at Lake Louise would be relatively low key. This was largely because the area seemed to be very touristy. There are a lot of people there especially around the lake itself but there are also strikingly beautiful hills and valleys going up to about 13000 ft.
We started the day at the ski lift. Beryl and Amy were both very key to go and use the open ski chairs (the Sulphur Mountain gondola being enclosed) Beryl then spotted that, if you get a ticket for the ski lift, you can get a buffet breakfast for $2 extra. Well that was a good bargain. You also get a good view of the hills and the ravens for the inn.
The ski area is on Whitehorn Mountain and this took us above 7000 ft. We had a walk around. The hill is quite smooth and grassy but it gives superb views across the Bow Valley to the real mountains on the other side. The valley bottom is covered in forest, all of which merges into a sea of green. The exception to this is Lake Louise with the chateau in front; both of them look unreal.
There is a viewing platform with a guide to the mountains. In the far distance you can see Mount Assiniboine, a very striking, sharp-topped hill. Beryl was quite taken by Quattro which, as the name implies, has four separate summits.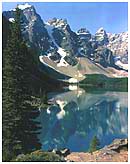 We returned to the car and drove to Moraine Lake. This is an even deeper blue than Lake Louise and is set in the Valley of the 12 Peaks. The best view is from top of the rock pile at the outline; this is a lovely, fun scramble. Amy certainly enjoyed that.We then walked 2 miles round into the next valley (across a section of scree where we paused to watch one guy doing a big descent). The walk is very pleasant gaining height slowly through the woods. The reward at the end is the aptly-named Consolation Lake. It lacks the scenic splendour of its two neighbours but there is a sense of remoteness and isolation which is wonderfully peaceful. I just sat on a large rock in the boulder field and drank it all in. Glorious!! we even found a bear print.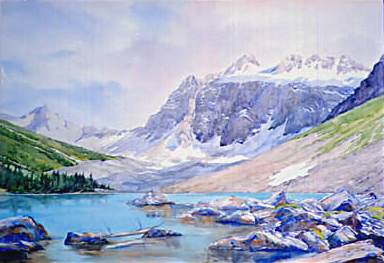 This is a painting of Consolation Lake by Donna Jo Massey
For more excellent pictures of the area, click here
We had a good meal in the evening too at the old railway station. I had the best salad ever (warm cheese and bacon salad in spinach leaves). The restaurant is full of railway memorabilia. You can even eat in an old carriage but that was outside our price range.